(Outfit: 1970s deadstock blouse; Target cardigan; 1950s flannel-lined jeans; Bamboo sneakers)
Much as I love my frocks and heels, sometimes I just don't feel like getting all dressed up, especially not on a rainy school morning. Here's a rare glimpse of me in jeans and sneakers; look quick, or you might miss it! In all honesty, though, I do love my vintage jeans for lazy days and weekends. Oh, and the "D" monogram on my cardigan was a little D.I.Y. with an iron-on; being not so athletically inclined in my high school days, a real letter sweater just wasn't in the cards, so I made my own. Take that, jocks!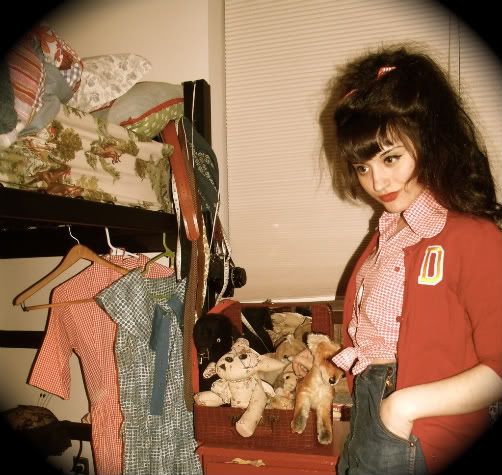 Have a great weekend, all; I'm heading home to my mother's for a quick visit, to play with my poor neglected horse and eat some delicious home-cooked food! I'll be sure to return with some more interesting outfit posts than the usual bleak dorm shoots; my mom's house is filled with bright colors and antiques, and we have all sorts of collapsing farm buildings, hilly fields, and even a grand abandoned farmhouse just across the street... just beauty everywhere you look!